Adjustable pier piling sidewall forms
In addition to our Series 700 seawall forms, dee Concrete offers rectangular or square shaped pier-piling forms for concrete pier piling forming applications.
Adjustable pier piling sidewall forms - description
dee has been an innovator in the manufacture of adjustable marine pier piling forms for smaller applications. We make piling forms to your specifications in square shaped forms from 6" x 6" up to 24" x 24" and rectangular shaped forms from 6" dimensions to a 24" dimension, in ¼" increments. dee makes all pier piling forms using 10-gauge steel.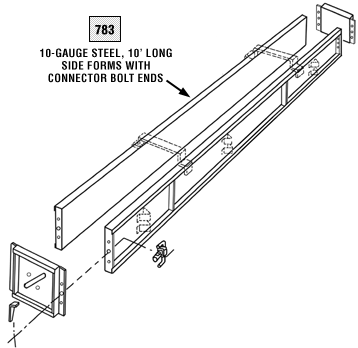 Adjustable pier piling sidewall form (#783)
Click here to view a more detailed view of our
adjustable pier piling sidewall form and accessories.
Pier piling sidewall forms are available in 2', 4', 6', 8' and 10' lengths and are available with optional stake pockets (#901) to add more stability when forming the thickest pier pilings.
dee's standard stake pocket configuration per 10' of pier piling form consists of 1 row of 3 single stake pockets for forms up to 10" in form height, 2 rows of 3 single pockets for forms 10+" to 16", and 3 rows of 3 single stake pockets for forms 16+" to 24" tall.
Needed dee accessories to complete the pier piling forming system include:
A top yoke spreader (#786) used to lock the side forms firmly together.
Two (2) end caps, 1 solid (#784) and 1 (#785) with slots for lifting elements and rebar, are needed.
Contractors can assemble and disassemble our adjustable pier piling form components by using duty slotted bolts (#679) and wedges (#602).
Marine contractors can insert an optional division plate (#356) at any point in the form set-up to create a custom length piling to meet individual piling requirements. It is recommended that a top yoke spreader be attached to the sidewall forms near the division plate insertion location.

Applications
dee square and rectangular pier piling forms are designed to provide up to 16' high/long concrete formed piling columns for pier supports and other marine applications.

Features and benefits
Different benefits will accrue from the use of dee pier piling sidewall forms depending on whether a marine contractor or a seawall contractor is forming their own pilings or purchasing pre-cast pilings.
General
dee square and rectangular pier piling sidewall forms provide marine contractors with:
Control over finished pier piling length, width, and height dimensions, (lengths from 2' up to 16' and heights and widths from 4" up to 24") ensuring the created pier pilings meet end-user specifications.

Interlocking piling forms, using slotted bolt and wedge connectors, providing a quick and easy method to combine pier piling form sections.

Effective pier piling production and delivery schedule management, improving overall job planning and scheduling abilities.

Adjustable piling form length capabilities for standard pier pilings from 2' to 16', increasing form utility and profitability

The ability to quickly adjust pier piling seawall form length in standard 2' increments up to maximum of length of 16', increasing pier piling forming labor efficiency.

A fast way to create pier piling sidewall forms in unique non-standard lengths between 2'-16' by inserting a division plate (#356) between the side forms (#783) to create a bulkhead at any, non-standard, desired length, increasing the contractor's ability to respond to unique pier piling size requirements.

A fast and easy pier piling forming solution, saving time yet requiring virtually no training.
Versus using wood piling forms
Using dee pier piling forms:
Eliminates wood pier form material purchases and disposal costs, providing on-going cost savings.

Provides a dimensionally accurate pier piling each time the forms are used, reducing wasted labor and material.

Reduces piling form setup and stripping labor by 50%, increasing productivity and profitability.

Eliminates the job-site hazards created by the workers littering the site with used bent form board nails, improving worker safety and eliminating flat tires on vehicles caused by nails left on the site.

Creates pier pilings to meet a job's requirements 2-3 times faster than using wood forms, saving wood expenses and increasing productivity.

Provides a long-term forming solution, enabling the pouring of hundreds of pier pilings compared to just 5-6 wood form uses.

Provides a 10-year+ useful life asset, not an expense, reducing ongoing wood form expenditures.

Provides an 8-month, or less, investment recovery, increasing profitability for the seawall contractor or marine contractor.
Versus using precast pier pilings
Using dee pier piling forms:
Reduces finished pier piling and transportation costs by ~ 30%, increasing company profitability.

Eliminates production and delivery delays, ensuring jobs are completed as scheduled.

Provides the contractor with the ability to select and control the concrete mixture and additives, ensuring the desired result.

Allows the contractor to determine the amount, configuration, and placement of internal reinforcement support (rebar) in each pier piling, ensuring the pier pilings will have the strength characteristics specified for the contractor's application.

Provides the seawall contractor or marine contractor with a method to quickly and easily obtain finished pier pilings in non-standard lengths, increasing sales potential with the added ability to satisfy custom requirements.
Contact dee Concrete Accessories at 1-800-245-1333, fill out our contact form, or email us at info@deeconcrete.com to discuss our individual pier piling sidewall form needs or to identify a distributor in your area.



Seawalls and Marine Forms
Seawalls and Marine Forms Accessories
Other Concrete Forming Products