Connector bolts
Connector bolts are specially designed bolts used to attach two flatwork forms together end to end. They are slotted bolts that use a metal wedge to lock themselves into place.
Connector bolts - description
Connector bolts are used for locking forms together, often used with super flat and tilt-up forms.
Connector bolts use a slotted bolt combined with a metal wedge instead of a threaded bolt with a nut, eliminating the problems caused by concrete residue curing on a threaded bolt/nut combination.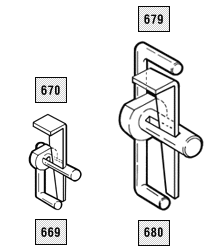 Standard and heavy-duty connector bolts
with bent wedges
| | |
| --- | --- |
| Description | Product Number |
| Hook bolt | #669 |
| Bent wedge | #670 |
| Large connector bolt | #679 |
| Large bent wedge | #680 |

Applications
dee's connector bolts are commonly used for flatwork forms, super flat forms, and tilt-up forms.

Features and benefits
dee connector bolts:
Provide an easy and fast method of firmly locking metal forms together, end-to-end, with no special tools.

Are much faster to use than standard threaded bolts, requiring no special tools.

Provide forming versatility by allowing the use of a combination of components for specific common repetitive applications.

Save time and money. Having the right concrete accessories makes any job go smoother.
Contact dee Concrete Accessories at 1-800-245-1333, fill out our contact form, or email us at info@deeconcrete.com to discuss your individual connector needs or to identify a distributor in your area.



Concrete Accessories & Parts
Other Concrete Forming Products