Seawall cap forming brackets
dee offers a line of seawall and marine forms and accessories including our unique seawall cap forming brackets designed to attach to a completed seawall and used to easily place concrete for variable sized seawall cap forms.
Seawall cap forming brackets - description
dee has created a seawall cap forming bracket system to make the placement of concrete seawall caps quick and easy when attached to seawall panels created by our Series 700 seawall forms. These adjustable brackets are specifically designed for the needs of seawall contractors and marine contractors to form seawall caps.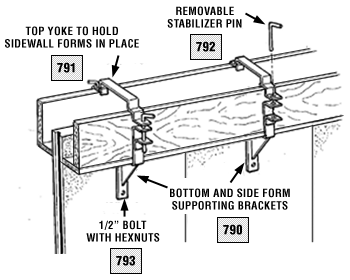 Seawall cap forming brackets

The seawall cap forming system is composed of four required components. They are:
A pair of 1/4"" thick steel bar stock opposing bottom brackets (#790), 3" wide, to support the cap forming bottom lumber and the sidewall lumber made out of 10-gauge steel.

A 1/4" thick steel bar stock top yoke (#791), 3" wide, to hold the sidewall form lumber in place.

A 3/4" steel stabilizer pin (#792) to easily connect the bottom bracket with the top yoke by sliding the pin through precut holes.

A 5/8" steel bolt with two hex nuts (#790) pushed through the weep holes in the seawall and inserted through the opposing bottom brackets and then bolted tight to hold the bottom brackets firmly in place.
The top yoke is specifically designed to accommodate a seawall cap 16" wide and dee will provide any custom sizes required for a specific project.

Each end of the yoke is designed with and upside down "U" channel that slips over the top 1-inch of the seawall cap side forming lumber to lock that board firmly into place.

Applications
dee seawall cap forming brackets are designed to accommodate variable length seawall caps to lock seawall cap forming lumber together, making seawall cap forming a faster, simpler, and safer forming operation and ultimately providing an aesthetic cap, and reducing wave spill over.

Features and benefits
General
dee seawall cap forming brackets provide the marine contractor with:
A method to quickly setup and strip seawall cap forming lumber using simple pin connections, allowing seawall cap form brackets to be easily connected or disconnected while forming variable length seawall caps.

Pin together forming brackets, allowing the wood seawall cap forms to be set up and dismantled quickly, improving overall cap forming project productivity.

An efficient cap forming method to secure multiple seawall panels together that will prevent post placement seawall shifting over time, eliminating costly rework.

A quick and simple method to connect the seawall bottom and sidewall lumber bracket to a pre-sized stabilizing yoke to firmly fix the wood seawall cap forms into place, eliminating any materials costs and labor incurred during nailing or screwing the brackets to the wood.

The ability to effectively manage seawall cap production and delivery schedules, improving overall job planning and scheduling abilities.

An efficient method for your skilled labor to setup and strip seawall cap forms by reducing piling form setup and stripping time by an estimated 30%, increasing productivity and profitability.
Contact dee Concrete Accessories at 1-800-245-1333, fill out our contact form, or email us at info@deeconcrete.com to discuss your individual seawall form stabilizing bracket needs or to identify a distributor in your area.



Seawall Forms & Accessories
Concrete Accessories & Parts
Other Concrete Forming Products