Form pins
Form pins are used for securing metal flatwork forms to the ground, for attaching screed bar holder clamps used in flatwork finishing, as surveying stakes, and as string line guides.
Form pins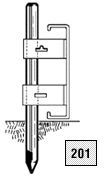 dee Concrete Accessories form pins are available in 3/4" and 7/8" for both standard duty and heavy-duty construction requirements and are made from cold-rolled U.S. made tool steel.
dee designed, patented, and introduced form pins to the construction industry decades ago.
dee form pins are made of the same cold rolled U.S. made steel as their nail stakes, but the form pins lack the nail holes.

Applications
dee's form pins are primarily used to secure wood or metal forms for concrete placement jobs including patios, sidewalks, driveways, foundations, pool curbs, intersections, bridge approaches, highway entrance and exit ramps, airport runways, roadways and taper pours for ramps.
dee's form pins are very versatile products and many uses outside concrete forming and concrete placement especially in the area of landscaping and lawn and garden uses.
Non-forming applications include:
securing landscape timbers
string line guides
property markers
general landscape small tree and large bush anchors
parking block or parking curb securing pins
tent stakes
grade stake markers
outdoor plant support stakes

lawn and garden ornamentation anchors
animal barrier fence corner pins and support stakes
check dam support spins
small craft temporary mooring pins
horse shoe stakes
volleyball net stakes
and many more.

Specifications/range of sizes
Length

3/4" Standard
Form Pins
(#201)

7/8" Heavy Duty
Form Pins
(#202)

12"
X
X
18"
X
X
24"
X
X
30"
X
X
36"
X
X
42"
X
X
48"
X
X
X = Available

To properly remove dee form pins, nail stakes, and flat stakes, use the dee stake puller.

Features and benefits
dee cold-rolled steel form pins:
Have an average life 2 to 3 times that of competitors' hot rolled pins providing a better value and a safer product to use.

Eliminate splitting, twisting and splintering improving worker safety and eliminating lost labor time.

24" dee form pins will pay for themselves in five uses or less.

Eliminate wood waste cleanup and expense from both broken stake boards and wood form boards saving time and money.

Are manufactured with a chamfered ring machined in around the pin top to prevent peening and increasing pin life.
Contact dee Concrete Accessories at 1-800-245-1333, fill out our contact form, or email us at info@deeconcrete.com to discuss your individual form pinsneeds or to identify a distributor in your area.