Pier piling sidewall form stake pockets
dee offers optional, additional, stake pockets (#901) for our adjustable pier piling sidewall forms (#783) for concrete pier piling forming applications to provide added stability to pier piling sidewall forms.
Stake pockets - description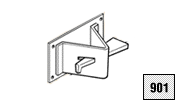 Stake pocket for pier piling sidewall forms
Stake pockets consist of a flat plate welded onto a slotted V-shaped channel that contains a slotted triangular locking wedge. Stake pockets are made out of 3/16" steel and are 2 1/4" tall. Additional stake pockets should be ordered with the pier piling sidewall forms and although they can be welded onto the sidewall forms in the field. dee's standard stake pocket configuration per 10' pier piling form consists of 1 row of 3 single stake pockets for forms up to 10" in height, 2 rows of 3 single pockets for forms 10+" to 16", and 3 rows of 3 single stake pockets for forms 16+" to 24" tall.

Applications
Steel stake pockets for metal forms are used in all types of flatwork forming where extra form support is required. dee pier piling sidewall forms are designed and shipped with a minimum of 3 and a maximum of 9 stake pockets per 10' section, dependent on form height, arranged in rows.
Features and benefits
dee stake pockets for pier piling sidewall forms:
Enable steel nail stakes or form pins to be used to replace wood stakes, saving wood acquisition and replacement costs.

Allow pier piling sidewall forms to be firmly anchored into place, improving the consistency of the concrete placement.
Contact dee Concrete Accessories at 1-800-245-1333, fill out our contact form, or email us at info@deeconcrete.com to discuss your individual stake pockets needs or to identify a distributor in your area.



Seawall Forms & Accessories
Concrete Accessories & Parts
Other Concrete Forming Products