Pier piling form top yoke spreader
In addition to our Series 700 seawall forms and our pier piling sidewall forms, dee Concrete offers yoke spreaders to make the pier piling sidewall forms function more efficiently.
Top yoke spreader - description
dee has been an innovator in the manufacture of adjustable marine pier piling forms for smaller applications. In order to ensure the pier piling sidewall forms (#783) stay in place and locked firmly together, dee has created the top yoke spreader accessory (#786). The top yoke spreader accessories are made out of ¼" steel bar stock and come in variable widths to accommodate the width of the required pier piling side forms from a 6" to a 24" piling width in increments of ¼"!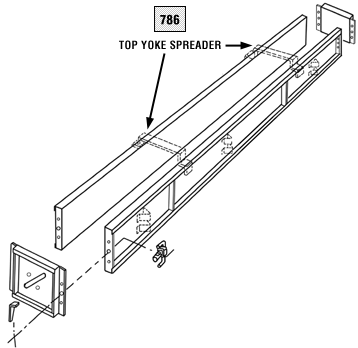 Top yoke spreader (#786)
Click here to view a more detailed view of our
adjustable pier piling sidewall form and accessories.
Marine contractors can insert an optional division plate (#356) at any point in the form set-up to create a custom length piling to meet individual piling requirements. We suggest using a top yoke spreader near the insertion of the division plate to ensure form stability.

Applications
dee's top yoke spreader is designed as a custom accessory for the adjustable pier piling sidewall forms. The yoke is attached across the top of two adjacent pier piling sidewall forms to lock them into place and ensure a solid squared pour with no blowouts.
Features and benefits
dee top yoke spreader accessories for our adjustable pier piling forms provide marine contractors with:
A means to ensure sidewall pier piling forms will not shift or bow during concrete placement and will produce a true square or rectangular concrete piling in widths from 4" up to 24", ensuring that the created pier pilings meet end-user specifications.

A fast and easy method to align and bolster the pier piling forms, saving time and improving finished pier piling quality.
Contact dee Concrete Accessories at 1-800-245-1333, fill out our contact form, or email us at info@deeconcrete.com to discuss your individual pier piling forms and accessories needs or to identify a distributor in your area.



Seawall Forms & Accessories
Concrete Accessories & Parts
Other Concrete Forming Products