Reversible paving forms
dee Concrete Accessories manufactures a line of reversible paving forms that allow road contractors to use the same forms for different height road beds.
Reversible paving forms - description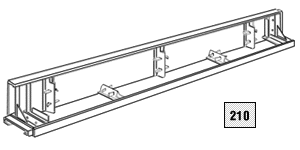 We also manufacture reversible paving forms, available in the 3/16" or 1/4". Our reversible paving forms are nearly identical to dee's standard paving forms, plus the same form can used to form concrete in two different heights. One side of the form is used for forming one height, and the other side is used for another height.
Reversible paving forms are manufactured with an extra set of stake pockets and are available in heights ranging from 6" to 24".
All other specifications of dee reversible paving forms are the same as our standard paving forms. Click to view light-duty paving form specifications and heavy-duty paving form specifications.
Applications
dee reversible paving forms are used in various concrete placement applications for intersections, highway entrance and exit ramps, streets, bridge approaches, airport runways, roadways, commercial driveways and truck pads, heavy equipment pads, and taper pours for ramps.

Reversible paving form notes
dee reversible paving forms are ideal for paving contractors doing a variety of jobs with predictable heights.
It should be noted the added stake pockets and supports increase both the strength and the weight of a reversible form. The weight of each reversible paving form is increased by 20 to 35 pounds over our standard paving forms with same dimensions due to the increased weight of the additional stake pockets and supports.
Stake holes are punched through both faces of the reversible forms, so the holes on the face of the form must be blocked prior to forming or concrete will flow through.
Reversible forms can also be punched for dowel holes allowing the forms to be used on jobs where the placed concrete will reinforced with metal rebar or solid metal dowels.
Specifications/range of sizes
Reversible paving forms are manufactured with an extra set of stake pockets and are available in form heights ranging from 6" to 24". The base width is also 6" to 24".
Custom form sizes are available to meet and road paving specifications.
Features and benefits
Allow a concrete contractor to only inventory one set of forms instead of two, saving form expense costs.

Increase a contractors' productivity on a job sites by eliminating the time needed to switch forms or wait for forms to be delivered when the forming heights change.

Save on expenses by allowing the contractor to only pay once for a form that can be used for two different forming heights.
Contact dee Concrete Accessories at 1-800-245-1333, fill out our contact form, or email us at info@deeconcrete.com to discuss your individual paving form needs or to identify a paving form distributor in your area.