Transition forms
Transition forms are form attachments that make changing from straight forming to radius forming quick and easy.
Description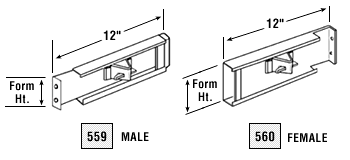 Product
Number
Description
Weight (lbs)
each
559 & 560*
4" and 5" forms
10
6" and 7" forms
12
8" and 10" forms
15
11" and 14" forms
18
15" and 18" forms
20
562 & 563**
6" height
7
7" height
8
8" height
10
*4" through 11" require 1 lock clamp.
*12" through 24" require 2 lock clamps.
**For standard curb face forms, Types B, J, & S

These 12" long heavy-duty steel transition sections are sold in male/female pairs. The male piece has a nose section and the female piece is manufactured with a receptacle. Both have an angle brace at the end allowing easy attachment to flexible forms. Each also comes with a stake pocket for positive placement. They are available in heights from 4' to 24" and curb face transitions to match any profile.


Applications
Transition forms are used to form curves in driveways, winding or curved sidewalks, streets, and shopping center concrete placements.
Features and benefits
dee transition forms:
Provide the contractor with an easy cost effective method to form straight and radius runs radius form by eliminating the need to "scab in" with masonite or wood.

Provide forming versatility by allowing the use of a combination of components for specific common repetitive applications.

Save time and money. Having the right concrete accessories makes any job go smoother.
Contact dee Concrete Accessories at 1-800-245-1333, fill out our contact form, or email us at info@deeconcrete.com to discuss your individual transition forms needs or to identify a distributor in your area.



Concrete Accessories & Parts
Other Concrete Forming Products