Rigid hangers
Rigid hangers are used for straight forms on curbs with existing pavement. When ordering, please specify the type and height of the curbface form.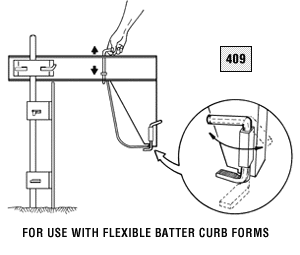 Applications
dee's concrete forming accessories provide a wide variety of the products needed to finish the concrete placement job for patios, sidewalks, driveways, foundations, pool curbs, intersections, bridge approaches, highway entrance and exit ramps, airport runways, roadways and taper pours for ramps.
Features and benefits
dee rigid hangers:
Provide forming versatility by allowing the use of a combination of components for specific common repetitive applications.

Save time and money. Having the right concrete accessories makes any job go smoother.
Contact dee Concrete Accessories at 1-800-245-1333, fill out our contact form, or email us at info@deeconcrete.com to discuss your individual rigid hanger needs or to identify a distributor in your area.



Concrete Accessories & Parts
Other Concrete Forming Products