Filler forms
dee filler forms are used to connect sections of forms together. To view more information about the different types of filler forms, please select one of the links below:
Straight filler forms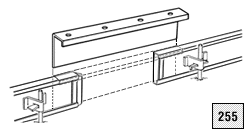 Available 2' to 10' long.
Standard 5' lengths

over 5' to 10'

Height

Weight (lbs)

Add for each
additional 12" (lbs)

4"
13
2
5"
15
3
6"
17
3.5
7"
21
4
8"
24
5
9" to 10"
28
6
11" to 12"
32
7
They are made from 12-gauge steel for heights from 4" to 7-1/2" and 10-gauge steel for forms 8" and higher. All are available in standard 5' sections and up to 10' by request. Our straight filler forms are manufactured with a top rail of ~2-1/8" inside dimension and no bottom rail allowing them to easily slip over the 2" rail of the straight flatwork forms they are used to connect.
Straight filler forms can also be used to connect dee's forms to all other competitors' forming systems that utilize a 2" rail.

Inverted filler forms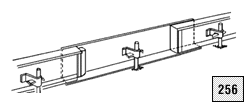 Shown with attached stake pocket.
dee inverted filler forms are identical to dee's straight filler forms, except that they are placed on the base of the straight forms rather than on the top.
The inverted filler form is held to line by an attached stake pocket or with the use of the filler form locks.

Flexible filler forms
Sizes
4" to 7"
8" to 10"
11" to 13"
14" to 16"
17" to 20"
21" to 24"
dee flexible filler forms are used to bridge the odd lengths between forms or at the end of a flatwork placement. They are manufactured with 13-gauge spring steel with attached end angle, three loose stake pockets and locking clamp.

Filler form locks
Filler form locks shown on a flexible form.
Also can be used for corner forms
or inverted straight forms.
Filler form locks are heavy-duty "U" shaped clamps with a thumb screw designed to secure rigid filler forms, straight and corners, or flexible filler forms in place while placing or finishing a pour.
The use of filler form locks prevents metal forms from shifting during either placement and finishing ensuring a job completed to specifications and requiring no rework due to costly blowouts.

Applications
Straight filler forms are used in concrete placements such as sidewalks, slabs, patios, curb & gutter setups, and other flatwork applications that require two sections of straight forms to be joined together.

Features and benefits
The use of straight filler forms frees contractors from using wood or masonite to fill in odd length gaps between straight forms, provides uniform gap filling while saving time and waste removal. In addition, using straight fillers forms is easier and quicker to use than wood or Masonite, increasing forming productivity.

Using flexible filler forms allows contractors to quickly fill in form gaps during radius forming without using costly masonite or other lumber products to complete the placement saving money and eliminating waste disposal time and expense.

The use of inverted filler forms provides an absolutely smooth surface for the screed to ride on reducing fine finishing time.
Contact dee Concrete Accessories at 1-800-245-1333, fill out our contact form, or email us at info@deeconcrete.com to discuss your individual filler form needs or to identify a distributor in your area.