Adjustable hangers
Adjustable hanger assemblies consist of a heavy-duty slide bar with an attached stake pocket. The slide bars are normally 18" long for curb forming use and up to 48" long when used to form trenched footers. Contractors can add interchangeable hanging elements to form straight and flexible steel curbs.
Adjustable hangers - description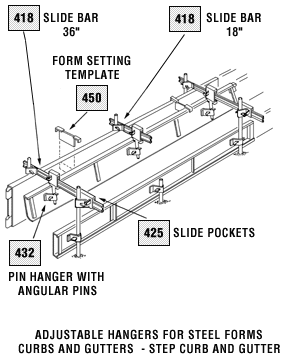 Adjustable hangers are available for steel forms curbs and gutters, trenched footers and extenders for edge forms.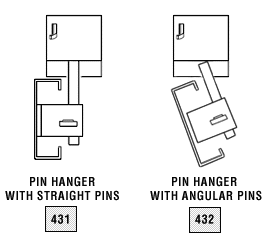 Pin type hangers with straight pins (#431) are used for straight and radius steel forms with stake pockets.
Pin type hangers with angular pins (#432) are used for specific batter steel curb face forms with stake pockets.
When forming trenched footers the contractor needs two hanging elements and one adjustable slide pocket slipped onto a 48" slide bar plus:
A vertical pin type hanger (#431)
A battered pin type hanger (#432)
A slide pocket (#425)
A form setting template (#430)

Applications
Adjustable hangers are used for forming variable dimensions on step curb, curb & gutter, and trenched footers with exposed concrete.

Features and benefits
dee adjustable hanger benefits are:
Contractors receive a high degree of flexibility setting up forms in areas where unstable ground conditions, existing pavement, or non-standard forming conditions prevent normal forming setups plus several setup configurations can be made from the hangers and interchangeable elements saving both time and money.

Adjustable hangers provide forming versatility by allowing the use of a combination of components for specific common repetitive applications.

dee adjustable hangers save time and money. Using adjustable hangers saves the contractor time compared to building complex wood forms.
Contact dee Concrete Accessories at 1-800-245-1333, fill out our contact form, or email us at info@deeconcrete.com to discuss your individual adjustable hanger needs or to identify a distributor in your area.